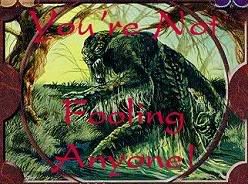 An
editorial
in the New York Times, following up on their recent story, shows that the "strengths and weaknesses" rhetoric on teaching evolution isn't fooling people who are paying even a little attention. They home in on the
same statement I criticized recently
.
The system accommodates what Dr. McLeroy calls
two systems of science, creationist and "naturalist."

The trouble is, a creationist system of science is not science at all. It is faith. All science is "naturalist" to the extent that it tries to understand the laws of nature and the character of the universe on their own terms, without reference to a divine creator.
I keep wondering when those in charge of the Texas Education Agency will realize that individuals like Don McLeroy, the chair and not-quiet-about-being-a-Young-Earth-Creationist are giving the state black eye after black eye.
If the creationist view prevails in Texas, students interested in learning how science really works and what scientists really understand about life will first have to overcome

the handicap of their own education

.